The City of Madisonville Police Department
Location
315 Englewood Road Madisonville, TN  37354
Contact Information
Phone: (423) 442-2268 for non-emergency items.
IF YOU HAVE AN EMERGENCY,
PLEASE DIAL 9-1-1.
Mission Statement
The City of Madisonville Police Department will insure the well being and safety of our citizens and visitors and their families to the best of our ability, at all times truly embodying our pledge to Protect and Serve.A Message from:
Commissioner Fred Cagle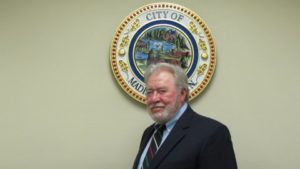 Madisonville Chief of Police Gregg Breeden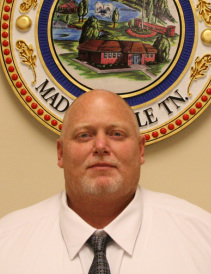 Welcome. I hope that you will find the information in this site to be useful and informative. Our officers are a group of dedicated law enforcement professionals that consistently do whatever it takes to serve the community with excellence every day. Don't hesitate to let us know how we can be of service to you, your neighborhood, group or business. Our effectiveness is based on our partnerships with the citizens, visitors, work force and other public safety organizations in our community. We ask for your support in keeping our city safe.
Gregg Breeden
A hallmark of civilized society, reasonable and compassionate enforcement of the Rule of Law has been the history of the settlement now known as Madisonville, located in the shadows of the Appalachian mountains. Today, led by Commissioner Bill Spradlin, the City of Madisonville Police Department caries on the tradition with 18 full time, Police Officer Standards Trained (POST), Certified law enforcement professionals. The Department is currently organized with:

Chief of Police
Gregg Breeden
Patrol Captain
Danny Russell
Investigators
Daniel Dockery, Adam Russell, Scott Webb
Patrol Sergeants
Bill Bivens, David Wear, Chris Wilburn
School Resource Officers
Kevin Peak, Jeremy Harrill
Patrol Officers
Craig Summey, Scott Hicks, Cody Yates, Steve Sloan, Chris Williams, Joe Fritts, Scott Watson
Animal Control Officer
The Police Department also employs a full time Animal Control Officer (Damin Cook) and retains the services of a trained and certified Bloodhound tracker dog named "Gracy." The force places special emphasis in their work to protect and serve younger and older citizen, who are most vulnerable.
Special Projects
The Department's Special Projects include their participation in and work with the Kids Wish Network on Tour, the Cops and Kids Fishing Rodeo held annually at Kefauver Park, the City's annual Halloween in the City celebration, the Toys for Tots campaign supplying toys, clothing and other items to local children during the Christmas season, and providing Need Baskets to our elderly citizens in November each year.
Memberships
The Madisonville Police Department is an active member of the 10th Judicial District Drug Task Force and the Monroe County Emergency Communications District (E-911 Center) and the Chief of Police proudly represents the City, serving as a Director on the governing Boards for both groups.